Shopping Cart
Your Cart is Empty
There was an error with PayPal
Click here to try again
Thank you for your business!
You should be receiving an order confirmation from Paypal shortly.
Exit Shopping Cart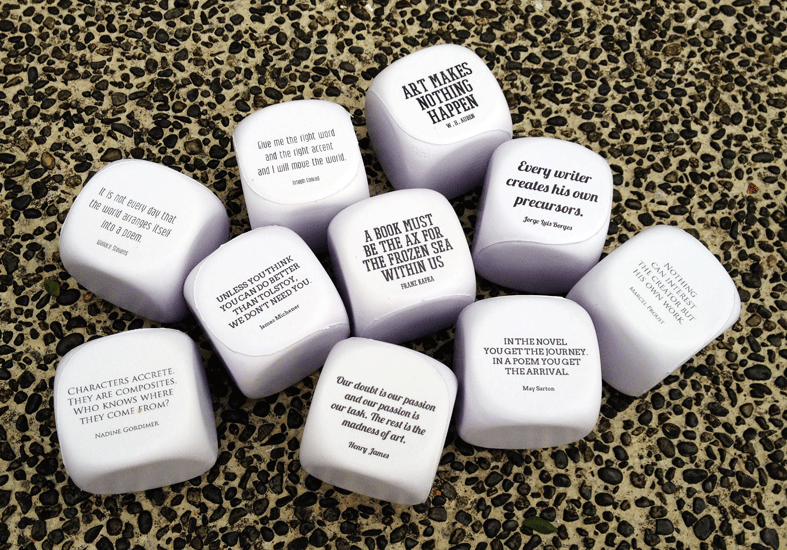 What do we do when there's an onslaught of rejection? What do we do between Monday and Friday, when the muse seems to have abandoned us, but we insist on seating ourselves at our notebooks, waiting for it to reappear?
Here are several squircle stressballs that'll do the trick ($5.99 USD each).
"Give me the right word and the right accent
and I will move the world."
~ Joseph Conrad ~
Joseph Conrad Stress Squircle
"Characters accrete. They are composites.
Who knows where they come from?"
~ Nadine Gordimer ~
Nadine Gordimer Stress Squircle
"Every writer creates his own precursors."
~ Jorge Luis Borges ~
"Our doubt is our passion and our passion is our task.
The rest is the madness of art."
~ Henry James ~
Henry James Stress Squircle
"Art makes nothing happen."
~ W. H. Auden ~
"Nothing can interest the creator but his own work."
~ Marcel Proust ~
"Unless you think you can do better than Tolstoy,
we don't need you."
~ James Michener ~
"A book must be the ax for the frozen sea within us."
~ Franz Kafka ~
"It is not every day that the world arranges itself into a poem."
~ Wallace Stevens ~
Wallace Stevens Stress Squircle
"In the novel you get the journey. In a poem you get the arrival."
~ May Sarton ~
May Sarton Stress Squircle
/